Waste Management, Simplified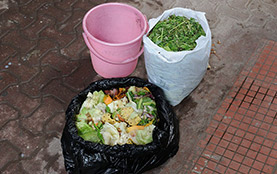 There is a flipside to the euphoria of economic growth - the problem of waste. Everyday, our growing cities generate thousands of tons of waste, overloading municipal systems. As the world has come to realize, responsible and inclusive waste management is the only sustainable solution.
Helping you create this long term solution, we are Environ-Biotech at Excel Industries Ltd. We build fully integrated Decentralized Waste Management Systems that process and treat organic solid wastes. Our patented OWC System and Bioneer are compact and easy to operate solutions that have been embraced by Housing Societies, Corporations, Large Kitchens, Municipalities and many more who seek to make a difference.
Environ-Biotech is a division of Excel Industries Ltd, a chemical and environmental industry pioneer with over 70 celebrated years of history. Founded on the triple pillars of 'People, Planet, Profit', Excel has from the very beginning focused on innovation to create sustainable value. As a company and as individuals we have partnered with communities to address vital issues such as conservation, sustainable farming and environmental management.
It is this same ethos and passion for the environment that drives Environ-Biotech at Excel. We are committed to innovation that builds a cleaner and greener planet.
Excel and the Planet

The foundation of Excel Industries was laid in a humble cowshed in 1942 in Jogeshwari by CC Shroff 'beloved Papa to all Excelites' and family....
View More
OWC System

Excel OWC (Organic Waste Convertor) is an easy to use Decentralized Waste Management System to turn large amounts....
View More