Excel and the Planet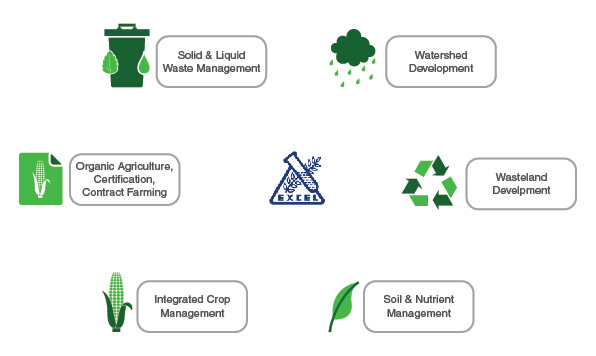 The foundation of Excel Industries was laid in a humble cowshed in 1942 in Jogeshwari by CC Shroff, beloved 'Pappa' to all Excelites and the Shroff family. At the time Jogeshwari a far flung outpost of Mumbai. Since the very beginning the purpose of our founders was to spread knowledge, cultivate relationships and to nurture India's fledgling indigenous technical knowhow. Another lifelong area of focus and passion for Pappa was the curbing of waste and converting what was considered as waste into useful industrial inputs. He had believed in recycling long before the environmental movement found its voice.
We focused strongly on the needs of the farmers, rural communities and the environment. Excel Industries was one of the first companies to manufacture and produce vital agrochemicals in India. The Shree Vivekananda Research Institute and Training Centre (VRTI) founded by Excel has partnered with farmers and communities across arid Kutch in areas such as Watershed Development, Integrated Crop Management, Soil and Nutrient Management and Organic Agriculture Certification.
Excel chairman and Pappa's brother Kantisen Shroff (Kaka to Excelites) drove Excel to become one of the first Indian companies to innovate in Solid and Liquid Waste Management technologies. This work has today matured into the Environ-Biotech division.
This impetus for innovation grows. We are constantly working with newer technologies to help spread sustainable ideas such as Decentralized Waste Management to every household, industry and community in India.